Justin & Mary's BRAND NEW Legacy Monochrome Presets, 28 custom signature J&M B&W presets for Adobe Lightroom.   **And this HUGE BONUS!!! You'll...
Learn more
JOIN OVER 10,000 STUDENTS
Over 10,000 creatives have already signed up for our Business Essentials Course, walking you through step by step how to keep your business legal, legit & above all PROTECTED!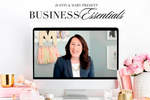 Lifetime Access In this 5-Part Training, we cover: The criteria the IRS is looking for to determine if this is...
Learn more
Because Summer Means SUN...
I think the high noon light is one of the most dreaded, anxiety-inducing enemies of most photographers. The light is bright, the shadows are harsh, the highlights are off the charts. In short, it just ain't pretty.
But it doesn't have to be that way.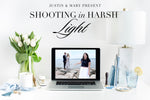 This Course includes a step by step video instruction where you can WATCH us explain exactly how to dial in our signature "Harsh Light...
Learn more
"WE SHOOT FOR THE SILVER FRAME"